Get Ready to Groove: The 11th Annual Sunset Music Festival is Here!
Disco Donnie Presents and Sunset Events have done it again! The widely celebrated Sunset Music Festival is back for its 11th annual edition, and it's shaping up to be the wildest party yet. Over Memorial Day Weekend, May 27-28, Raymond James Stadium North Lot will be transformed into a dazzling destination festival experience. With a 40+ roster of internationally acclaimed artists, this year's festival promises to be a non-stop dance party.
John and I have been festival partners for a long time now, and every year we work on how to make this experience even more memorable than the last for all of the Sunsetters. It's an incredible Florida dance music festival attracting the best talent in the world, and we can't wait for the fans to see what we have in store for this year's edition!

Disco Donnie
And the phase two lineup just dropped, featuring heavy hitters like Rezz and Kayzo, along with ethereal wubs from LSDream, and the booming sounds of Blunts & Blondes and Canabliss. But that's not all – the festival is also showcasing some of the finest rising talent from the state of Florida, including BERNZIKIAL, MYR, Flozone, PLSMA, Yokai, and Ritz Y Bor resident, Taylorlace.
But let's not forget about the previously announced performances from Adventure Club and EPTIC B2B Space Laces, Chris Lake, HoneyLuv, DJ Susan, and Odd Mobb. And if you're in the mood for some emotion-fueled sets, Slander and Audien are guaranteed to hit you right in the feels.
Since Sunset Music Festival's inception in 2006, we've worked hard to develop lineups that fans in the region love. To bring not just the biggest dance festival on the Gulf Coast, but also to my hometown. Every lineup release is a source of pride for me, my company and the city that I love.

John Santoro
This festival has come a long way since its humble beginnings back in 2006 at Vinoy Park in St. Petersburg. Now, it's one of the largest festivals of its kind on the east coast, and it's brought in some serious cash for the city. In fact, the 2021 festival alone generated more than 9,000 hotel stays in Tampa, yielding about $16 million in direct economic impact and $32 million in indirect impact, and even welcomed over 20,000 out-of-town guests to get a taste of this unforgettable sun-kissed experience.
And let's not forget the beautiful beaches and insatiable food and nightlife experiences that Tampa Bay has to offer. There's no shortage of fun when you come to town for the Sunset Music Festival.
The electronic dance music extravaganza is in its 11th year and has transformed from a smaller gathering at Vinoy Park in 2006, to one of the most anticipated and revelatory multi-day happenings in the state of Florida.

That's So Tampa
So get ready to groove and make some unforgettable memories at the 11th annual Sunset Music Festival. It's time to dance the night away with some of the best artists on the planet. See you there!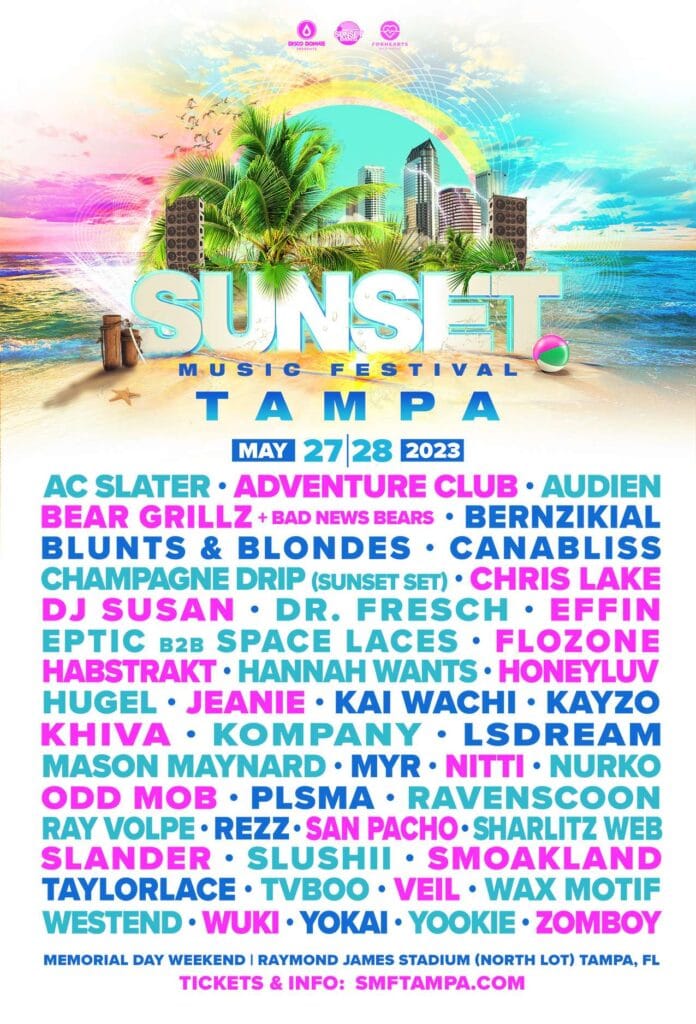 SUNSET MUSIC FESTIVAL 2023 LINEUP:
AC SLATER
ADVENTURE CLUB
AUDIEN
BEAR GRILLZ + BAD NEWS BEARS
BERNZIKIAL
BLUNTS & BLONDES
CANABLISS
CHAMPAGNE DRIP (sunset set)
CHRIS LAKE
DJ SUSAN
DR. FRESCH
EFFIN EPTIC B2B SPACE LACES
FLOZONE
HABSTRAKT
HANNAH WANTS
HONEYLUV
HUGEL
JEANIE
KAI WACHI
KAYZO
KHIVA
KOMPANY
LSDREAM
MASON MAYNARD
MYR
NITTI
NURKO
ODD MOB
PLSMA
RAVENSCOON
RAY VOLPE
REZZ
SAN PACHO
SHARLITZ WEB
SLANDER
SLUSHII
SMOAKLAND
TAYLORLACE
TVBOO
VEIL
WAX MOTIF
WESTEND
WUKI
YOKAI
YOOKIE
ZOMBOY